Enhance your backyard with custom hardscape designs! What is hardscape design? Hardscape consists of the non-living elements or built environment of landscape design. Think of it as the stern but movable parts such as pavers, brick patio, retaining walls, gravel, and stone. Hardscape is one of the subcategories of landscaping and softscape, including plants, flowers, and trees.
Not only is it visually pleasing, but adding custom hardscape designs to your backyard adds value to the curb appeal of your home, creates privacy through bushes and fences,
Below are five backyard design ideas from our professional Georgia hardscape designers (using our portfolio photos):
Landscaping Design
Our professional hardscape designers recommend getting started with landscaping design. The greenery will instantly transform your backyard and will only enhance any hardscape plans you may have. Landscape design can also protect your property in the form of soil erosion, flooding, and falling rocks.
Check out our landscaping portfolio here: https://reliantlandscaping.com/ga-landscape-design-company/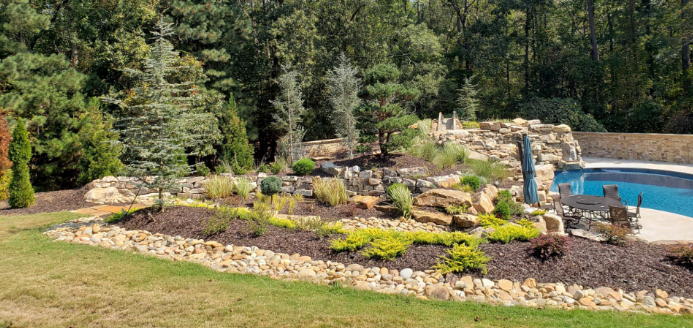 Fireplaces & Firepits
Fireplaces and firepits are the perfect focal point for any backyard. They set a specific tone to any outdoor space and help define a gathering spot for friends and family. Adding a hangout space like this helps create a true extension of space for your home.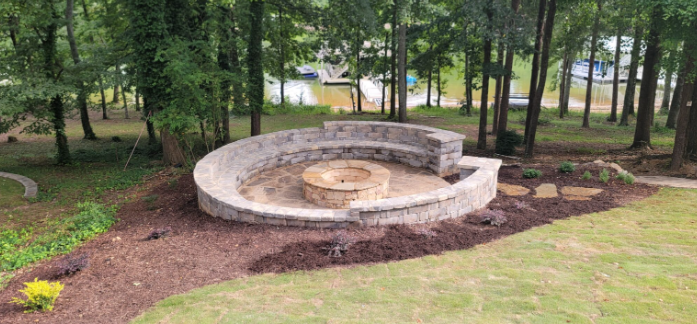 Stone and Paver Blocks
There are so many advantages to a paver patio. While they are another feature that will visually enhance your backyard space, they also serve a purpose. They are more durable (and last longer) than concrete, require minimal maintenance, and are highly weather-resistant.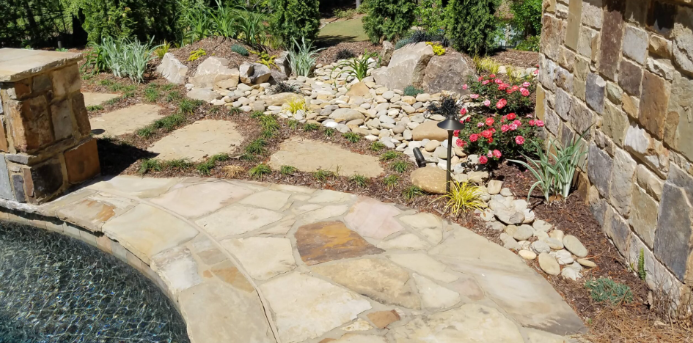 Retaining Walls
Retaining walls are a significant visual enhancement for the hills in your backyard. But they are not just for looks; they have an essential job in protecting your home from erosion. They are meant to keep the soil in place on a hill and act as flood control when the rain comes.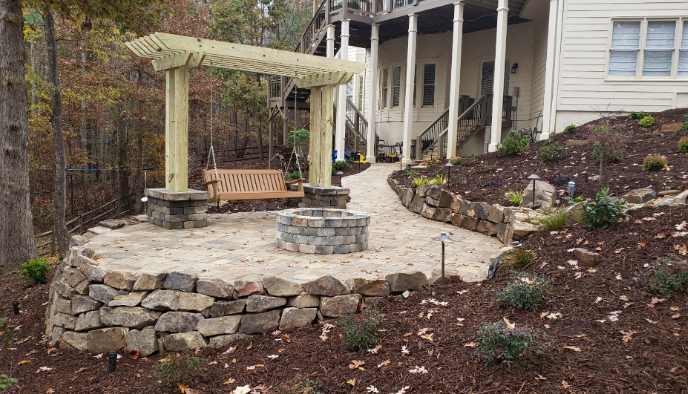 Stairs and Walkways
Stairs and walkways can provide a beautiful transition between various levels throughout your backyard. We like to use similar stone for stairs for aesthetic reasons, as we used for paver patios or fireplaces. Greenery also enhances the visual appeal, as you can see in our example photo.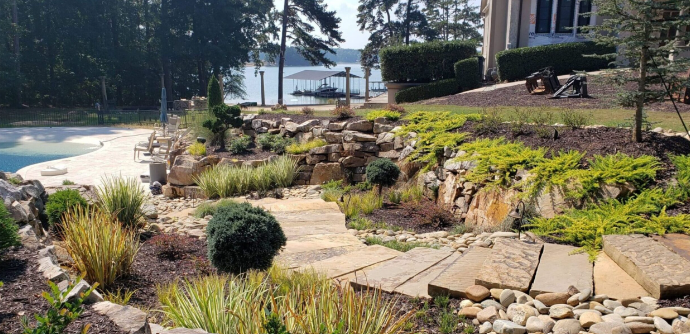 Your Local Georgia Hardscape Designers
Reliant Landscaping is more than just a hardscape designer; we provide the same detail-oriented and meticulous level of service to each home that we serve. Reliant Landscaping is made up of a highly skilled team of experts dedicated to our customers' satisfaction. We know that trusting a company with the aesthetic of your home could be tricky. But it is our mission to be the most reliable hardscape designer in the North Georgia area.
Are you ready to get your hardscape project started? Give us a call today to get your backyard on our schedule! Our landscape design experts will help transform your home exterior into a work of art.
Please take a look at our happy customers here: https://www.homeadvisor.com/rated.ReliantLandscapingLLC.55818210.html